Medical service in Germany
Welcome to MEDIGERMAN homepage!
If you are now browsing through our site, this means that you or your family have health problems. We will do our best to help you solve these problems quickly and effectively bringing back the joy of a life free of pain! Our company specializes in providing high quality healthcare services. We organize treatment in the leading German hospitals, find the best medical experts for every individual case, as well as accompany our patients to the clinic, provide language support, and handle paperwork.
In case you or your companions decide to explore the local area, or visit one of the European capitals, we will provide a wide selection of trips, excursions and tours.
For us, individual approach means something more than just an empty phrase. We accompany and assist every our patient right from the moment they apply for treatment and up until full recovery and a subsequent safe return home.
We are in a constant search for the best therapy methods studying the latest medical innovations. This strategy lets us reduce the risks and ensure rapid recovery for our patient, thus, offering them the best treatment options.
We will go to any length to help you recover, because your health is our biggest treasure!
If you have any questions or need a free consultation, please complete the form below or contact us by phone in Magdeburg, Moscow, Kiev, Riga, and Rostov-on-Don.
Medical treatment in Germany
Warum die Patienten uns vertrauen?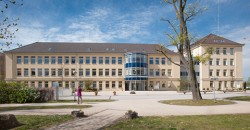 Die Behandlungskosten basieren sich auf den Kosten der Klinik. Das Unternehmen MEDIGERMAN bietet ihren Kunden absolute Transparenz der Berechnungen und informiert seine Patienten über alle Schritte. Zahlreiche Feedbackberichte bestätigen die Zuverlässigkeit unserer Firma. Sie werden sich überzeugen, dass vernünftige Preise und ein hohes Dienstleistungsniveau die Reise nach Deutschland nicht nur nützlich, aber auch angenehm machen können. Die Erfahrung und das breite Wissensspektrum der deutschen Ärzte, jeder von denen über zwölf Jahre Medizin studierte, sollte für Sie als Garantie Ihrer baldigen Genesung dienen.
Unsere Patienten werden von einem qualifizierten Dolmetscher begleitet und nach der Behandlung erhalten Sie eine beglaubigte Übersetzung aller medizinischen Unterlagen.
Unsere Gesellschaft arbeitet zusammen mit führenden Ärzten und Kliniken Deutschlands und hilft Ihnen eine individuelle Behandlungsart zu wählen und den besten Spezialisten in beliebiger medizinischer Richtung zu finden.
Wenden Sie sich an MEDIGERMAN Group und wir helfen Ihnen die Gesundheit und die Zukunftssicherheit wieder zu erhalten!